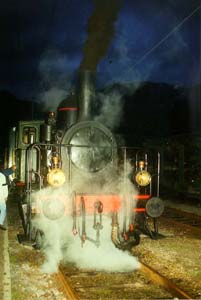 The Mendrisio-Stabio steam train
Saturday October 10 was a resting day, when the participants could visit the exhibition in Mendrisio, and explore the surroundings. The evening, a special dinner was offered to the participants, on board of a vehicle belonging to another era: the Mendrisio-Stabio historic steam train.
On Sunday morning, all participants came together for a special trip to Como and Cantù. After crossing the Italian border at Chiasso, police escort was provided to guide the electric vehicles to the Piazza Cavour in downtown Como. This square was featuring the arrival of the Como marathon, and the electric vehicles were exhibited together with some of their counterparts from the Como city fleet, including an electric bus. Before the buffet lunch, the participants could spend some
moments enjoying the sunshine in this splendid lakeside location, a welcome difference after the cold and rain of the North.

After lunch the caravan of vehicles went on to Cantù, where the one-hour exhibition of the vehicles on the Piazza Garibaldi attracted lots of interests from local people.

Back into Switzerland, the Transeuropean participants witnessed the closing of the ExpoVEL exhibition and had to demonstrate their vehicle maneuvering skills in a special stage on the ExpoVEL premises. The evening was closed with a traditional Ticinese meal in a "Grotto" restaurant.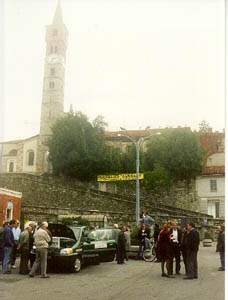 Cantù