All vehicles said goodbye to Mendrisio to proceed to the Italian border at Gaggiolo. A sometimes quite difficult to find route through small villages led the Transeuropean to the city of Novara, the first charging point for today, where a police escort was waiting for the vehicles at the city gates, in order to usher them to the piazza Puccini in downtown Novara, where ENEL had provided the charging connection. The long charging pause was used by the participants to have lunch, visit Novara's splendid historic centre or just enjoy the sunshine.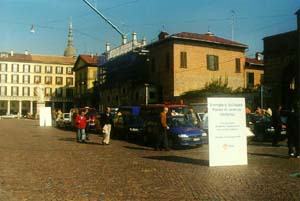 Novara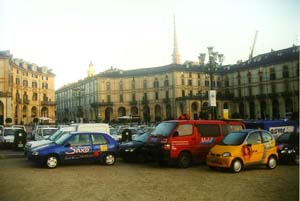 Torino
After leaving Novara, it was time for the longest single traject of the Transeuropean: not less than 100 km towards Torino, straight through the Piemontese rice-fields. An emergency charging facility had been provided in Chivasso, at 75 km; however, several vehicles declined this and made the run to Torino on a single charge (or even on a partial charge made in Novara).
The charging facility in Torino was provided on the magnificent Piazza Vittorio Veneto, adjacent to the electric vehicle automatic rental station which has been working there for two years now. During the evening, the City of Torino invited the participants for a copious dinner with local specialities.