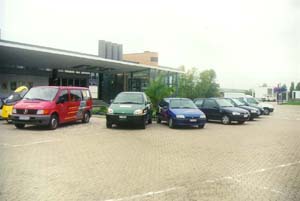 The Congress Centre in Saarbrücken
After a quite short night for most participants, the vehicles were deployed in front of the congress centre of Saarbrücken, where the Mayor himself gave the start at 10.00.
A long 84 km trip went to Saverne. Many participants used the three-hour charging pause to visit this historical town and its canal locks, despite a pouring rain.

In Strasbourg,the destination for today, many participants made a tour of honor to find the first destination point at the Place de l'Etoile. After a reception at the administrative centre, the vehicles were put to charge at the city works, and the participants were transferred by bus to a hotel in the suburbs, since all city hotels were being occupied by the members of the European Parliament. In the evening, the electricity company Electricité de Strasbourg and the battery company Fulmen invited the participants to a dinner with the real Alsatian "Choucroute".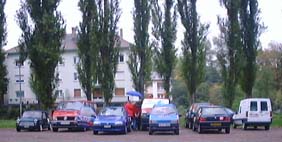 Charging in Saverne