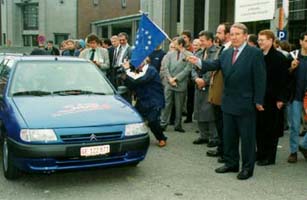 The start given by Minister Jos CHABERT
Saturday October 3, 1998, 18 electric vehicles started in Brussels the 1400 km long "Transeuropean". This demonstration run through seven countries joins three major electric vehicle events: the EVS-15 symposium in Brussels (29/09-03/10),the ExpoVEL in Mendrisio (09/10-11/10) and the international electric vehicle rendez-vous in Monte Carlo (15/10-19/10) with its exhibition, forum and electric vehicle rally.
The participant field showing up for this event was quite mixed: starting with a groupof Italian students, presenting three electric bicycles,a scooter and two three-wheeled electromuscular hybrids. There was also the well-known Twike, several Peugeot 106 and Saxo, a Ligier Optimax, a Renault Express, a Mini Comminication with NiCd batteries, a Honda EV Plus and finally a Mercedes Vito with Zebra battery.
After being flagged off at the Heysel exhibition centre in 1 minute intervals by Mr Jos Chabert, Minister of Brussels Capital Region, the participants had to find their own way through Brussels and further south-east to Namur,with the help of the road-book.
This meant the first problems and detours for some participants. The hilly topography of the 66 km route weighed on the energy calculations and brought for some of the participants,for which such a distance normally would not incur any problem, to the end of discharge. All participants reached eventually Namur, where the electricity company Electrabel provided the vehicles with juice and the drivers with a hearty drink and snack.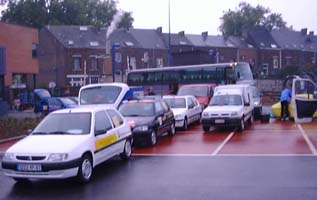 Charging at Electrabel Namur